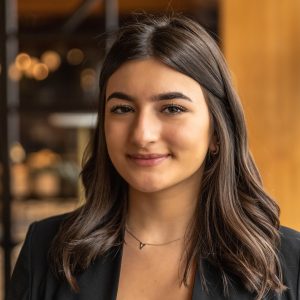 Co-President
Victoria is a 3rd year student double majoring in Human Resource Management and Business Technology Management. This is her 3rd consecutive year on JHMA, having previously held the positions of First Year Representative and Vice President of External. Throughout her time with JHMA, she has made meaningful connections with both students and industry professionals, gained hands-on experience within the HR industry, and more. As Co-President, Victoria has the intention to directly improve and impact the academic experience of HR and Management students at JMSB. 
Fun Fact: Victoria owns a charcuterie board company which she started over 1 year ago!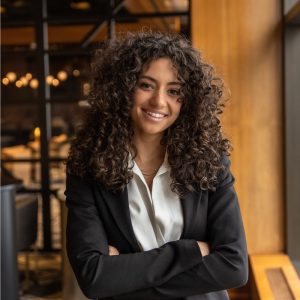 Co-President
Olivia is a 4th HRM student who chose to be a part of JHMA to enrich her student experience by gaining hands-on skills outside of the classroom by HR and Management professionals. Being involved allowed her to have the ability to give other HR and Management students at JMSB the opportunity to gain experiences and insights of the industry through JHMA. Some of her hobbies include dancing and doing activities outdoors.
Fun Fact: She has been a competitive dancer for 15 years dancing in all different styles of dance- if there's music playing, you'll probably see her dancing!
VP Marketing
Vanessa is a Marketing major and HRM minor in her fourth year of studies. She joined the JHMA team to put in practice her Marketing skills, all while creating some meaningful connections and gaining insight about the Human Resources field. Vanessa is an avid book reader, she enjoys long walks with her dogs and you can often catch her sipping on some bubble tea!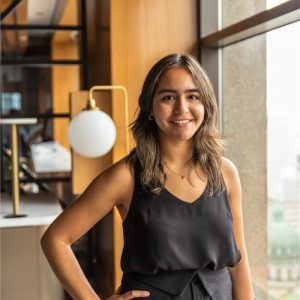 Social Media Coordinator
Chiara is a 4th year student majoring in Supply Chain Operations Management and minoring in Management. She joined the team to meet new people, get involved, and make connections. Some of her hobbies include going for walks, baking, and discovering new coffee shops.
Fun fact: Chiara speaks 4 fluent languages and she's now trying to learn French as well.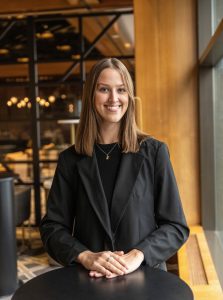 Content Creator
Jade is a 4th year student, majoring in marketing and minoring in management. She chose to join JHMA to form some valuable connections, while also gaining some practical marketing experience. In addition, she wanted to get involved in an association in order to contribute to other students' academic experiences.  Some of her hobbies include thrifting, watching psychological thrillers and catching up on the latest Tiktok trends.
Fun fact: Jade collects unique mugs!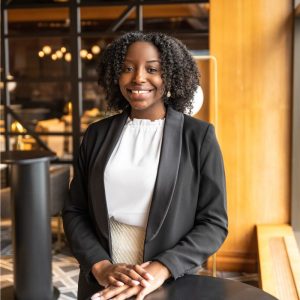 VP Events
Kaurynna's a 3rd year student in HR Management. After having great conversations with students involved in other student associations, she felt inspired and wanted to also have a say in the student experience at JMSB. Her passion for event planning and career counselling led her to apply for the VP Events position. Her genuine love for others, her creativity and her leadership appear in everything she does. When it comes to hobbies, she works on a career orientation platform with her friends called Version1_mtl and she loves to explore new places in Montreal with her close ones.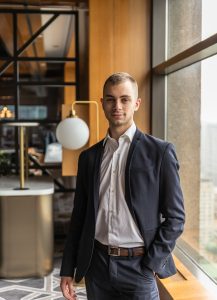 Director of Events
Name: Romano is a 5th year marketing co-op major, minoring in real estate. He joined JHMA because he wanted to gain experience in an extracurricular setting, gain skills in event logistics, as well as build his professional network!
Fun Fact: Romano is the host of a radio show on CJLO 1690AM, so make sure to catch the ABCs at 3:00pm every Tuesday! He can also wiggle his ears (more peculiar, equally as impressive).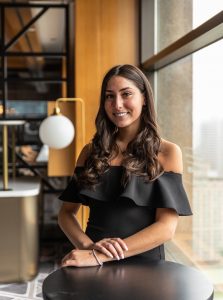 Director of Events
Claudia is a second year HRM student who joined JHMA this year as a director of events to help forge meaningful connections and make new friends! She loves to skate and is now a professional certified skating coach and equally loves to travel. 
Fun fact: Claudia is a hardcore Habs fan and loves to watch hockey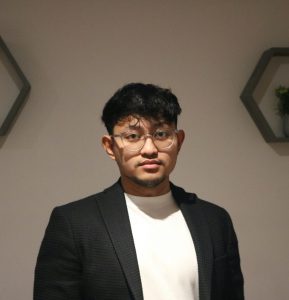 Director of External
Kim is a 2nd year HRM student who joined JHMA to take the opportunity to foster skills like leadership, teamwork and large crowd public speaking. He intends to expand his horizons by getting involved with hands-on experiences that are related to his studies as well as continuously develop relationships through networking events with students & numerous companies. Kim's hobbies include going to the gym 4x/week at 1am, sports and escape rooms.
Fun Fact: Kim can solve a rubik's cube in under a minute.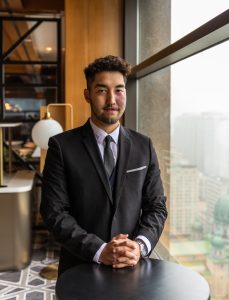 Speaker Coordinator
Asad is a 2nd year Management Student minoring in Business Technology Management and loves to grow his network. He decided to join JHMA after attending their virtual events during covid in 2020 and seeing professionals in related fields talk about their work experiences. This was his chance to grow his network with Management professionals and work with ambitious students to create events that inform thousands of students about their field of study. Asad's hobbies consist of playing soccer, going to the gym, making youtube videos and clubbing with friends.
Fun Fact: Asad recited the Holy Dua in front of everyone at his mosque at the age of 10.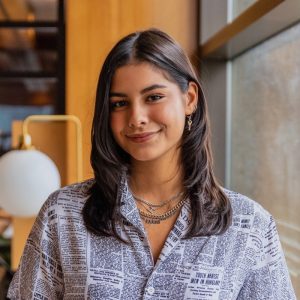 VP Involvement
Helena is a 4th year HRM  student who chose to join JHMA to make connections within the industry and meet new people! It is her second year on the team and she has had the chance to make connections with various companies as well as students. Some of her hobbies include second hand shopping and sewing. Her dream job would be to work abroad.
Fun Fact: her hidden talent is that she does all of her friends' hair (dying, cutting, etc).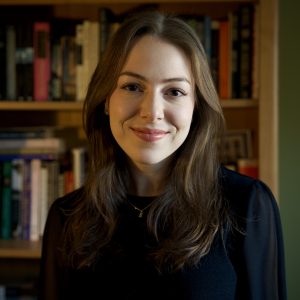 Director of Involvement
Sam is a 3rd year HRM student who joined JHMA in her last year in hopes to learn more about the HR world, gain experience networking with business professionals and to thrive in the team environment! Sam's hobbies consist of thrifting, painting and watching too many Tik Toks. 
Fun fact: She experienced a 5.1 magnitude earthquake when she was in Athens.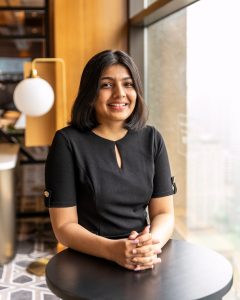 VP Academics – Management
Divyena is a second year Finance and Management student. She joined JHMA to enhance her university experience, make meaningful connections and obtain new skills. She's extremely passionate about traveling and makes it a point to go to an amusement park in every city she visits.
Fun fact: Divyena has swum with the sharks.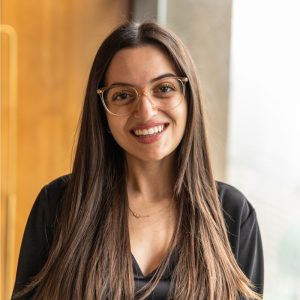 VP Academics – Human Resources
Erika is a 4th year Human Resource Management student. She chose to join JHMA to enrich her university experience, diversify her network, and work with a passionate team to support HR and management students. Her interests include yoga, being in the outdoors, and travelling. 
Fun fact: Erika has been skydiving.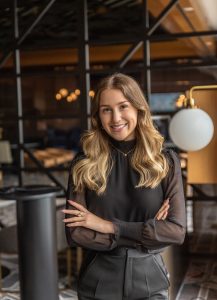 VP Internal
Lauren is a 3rd year Human Resource Management Co-op student who joined JHMA to enhance her overall university experience, expand her network, and apply practical knowledge to real settings while being a voice for all HR and management students. Her passions include travelling, playing sports, and reading up on unsolved mysteries.
Fun Fact: She can recite almost every Grey's Anatomy episode!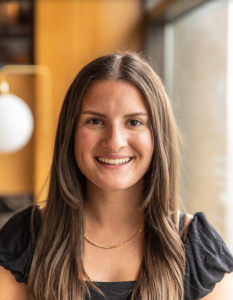 VP Finance
Vasiliki is a 3rd year student majoring in Accountancy and minoring in Finance. She joined JHMA to get involved in school alongside an amazing team and have the chance to work behind the scenes of student events. Vasiliki's hobbies include going for long walks, dancing in her room and watching Judge Judy.
Fun fact: Vasiliki cannot go a day without eating chocolate.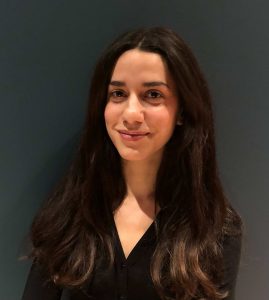 First Year Representative
Juliet is a first year Management student who joined JHMA with the intent of enhancing her university experience by joining a dynamic and hardworking team of students. During her time at JHMA she wishes to broaden her social network, obtain skills and experience from HR and Management professionals, as well as, better the experience of JMSB students. Juliet's hobbies include baking, travelling and drawing. 
Fun fact:  Juliet could give you a 2-hour presentation on why Interstellar should be considered the greatest movie of all time.
HR and Management Students